What once began as a college course assignment, has since morphed into a movement that advocates for the homeless...
Beantown Blankets started off as a class project, but Maxwell Perry was in it for more than a grade.
In January 2016, the Babson College student hit the ground running during his freshman year Foundations of Management and Entrepreneurship course. The class of 40 students broke into three groups to launch their own businesses with the school providing seed money. Perry was his group's CEO.
Before stepping foot on the Wellesley campus, Perry sat down at the dinner table with his mom and brainstormed business ideas that he could use. "She had always shown compassion for those in need growing up, and said that more than anything, she wanted to give out blankets with a waterproof side."
Inspired, Perry came up with Beantown Blankets, an organization that donates one blanket to a homeless individual or shelter for every blanket sold. The uniquely designed blankets have soft fleece on one side and waterproof material on the other, making them both comfortable and functional for outdoor use.
"For homeless individuals, it's protection from rain and snow, keeping them warm and dry during New England winters," says Perry. "For the customer, it's the perfect blanket for picnics, sporting events, concerts, pets, or to keep in the car."
- Excerpt From Boston Magazine
We're committed to making an impact and together we can!

Blankets are one of the most requested items from shelters. Our blankets are designed with a waterproof side, offering protection from rain, wind, and snow. For us, blankets are more than just blankets - they are comfort, warmth, and security.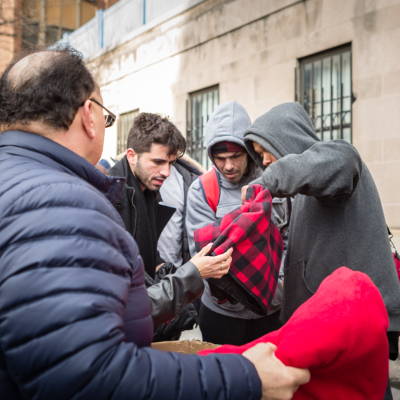 It's simple. For every Beantown Blanket product purchased, we donate a waterproof fleece blanket to someone in need. Over 30,000 blankets have been donated to shelters across the United States because of your support! Click here to view some of the shelters.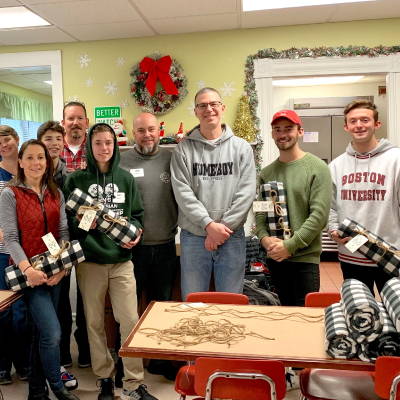 We are constantly seeking new opportunities to help local communities. We now offer volunteer programs, BB Fundraising, and more. If you would like to share ideas, suggestions, or recommend shelters in need of donations we would love to hear from you. Please send a message to info@beantownblankets.org
Mission For Hope & The Black Dog
"On June 9th I left on a 200 day journey in my Jeep to visit 30 cities in the United States which have the highest population of people experiencing homelessness. I am partnering with the local Jeep and off road clubs in each city on Saturdays to give out hygiene kits, blankets, food, fruit, baked goods, water and other items such as clothing."
Beantown Blankets is proud to support Leighton O'Connor on his journey to help those in need. Safe travels Leighton!

To learn more about Leighton's journey and support his outreach, click below!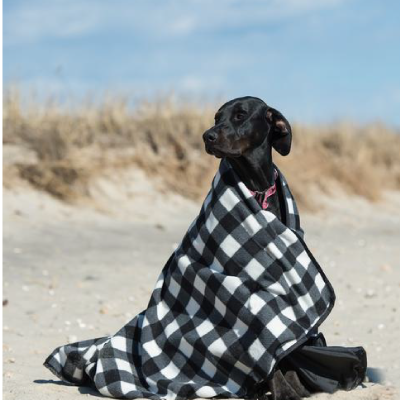 The Black Dog has teamed up with Beantown Blankets, an organization that has been donating blankets to homeless shelters since 2016. Our partnership with Beantown Blankets has now allowed us to support local animal shelters in a similar manner and we are proud to announce that for each BD ShelterU Blanket purchased, we will donate a blanket to a hometown shelter.
If you would like to support, learn more here!